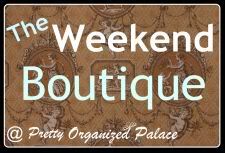 This is Pretty Organizers edition of a Holiday Blow Out Sale. Last year I was up to my eyeballs in what I lovingly call "Pretty Organizers." I have sold at boutiques, online through my Etsy store and have done custom orders as well. I was invited last Fall to be the hat box supplier for a swanky hat store in Santa Monica... I was totally thrilled and flattered but... my 6 children are my priority.
Point? Well, this year is too busy to keep up with Hat Boxes and truthfully,
I need to clear out crafter space and build up a reserve of change for my late night holiday craft induced chocolate binges.
SO, I have a few overstock boxes that I'm offering at killer prices. Bad? No, they're beautiful but just not good enough to sell for top $$$.
These boxes are over 50% off what I sell my boxes for.
They need a good home and I need to purge. Yes, the pictures are blurry. I hate taking pictures... no patience.
I've included a PayPal button right here to make it easy. And... if you don't want a hat box but want to add to my late night chocolate binge fund, just click on the goole ads to the right. I think I have $5 more dollars of clicks 'till google sends me my check:)
All of you Etsy Store owners or crafters who want to link up and strut your creative stuff.... link up to your store or blog and show us what you've got!
Shoppers... time to start that Christmas Shopping!